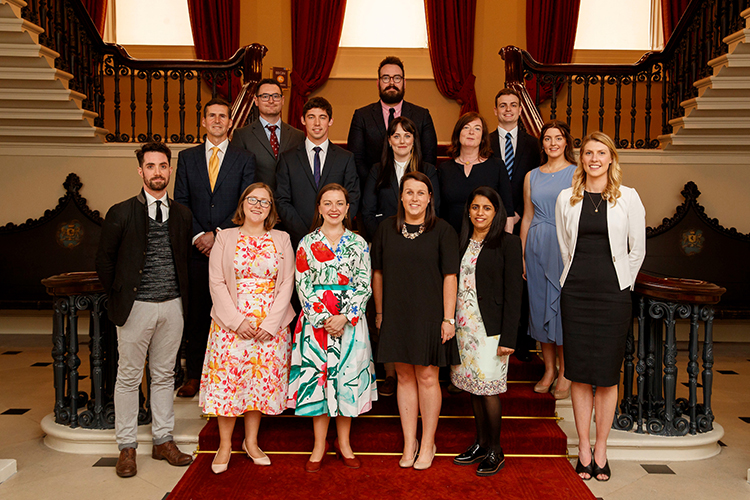 Fifteen of 36 coveted Fulbright scholarships have been awarded to students and scholars at University College Dublin.
The recipients from the University will now take up research and teaching roles at some of America's best universities and institutions.
The diverse group were among 36 awardees at this year's prestigious Fulbright Irish Awards.
They represent the highest number of UCD students and scholars to receive Fulbright scholarships in a single year since the exchange programme was established in 1957.
The 2019-2020 UCD recipients are from disciplines spanning technology, science, language, medicine and the arts.
Jointly funded by the Irish and United States governments, the Fulbright Awards offers Irish and US students, scholars and professionals the opportunity to undertake postgraduate study, research and teaching in America and Ireland respectively.
Niall Burgess, Secretary General of the Department of Foreign Affairs and Trade said Fulbright scholars had an outstanding track record in representing Ireland abroad.
"Exchanges like the Fulbright programme play a crucial role in sustaining the unique and very close relationship that Ireland and the United States share. The Fulbright Commission and Fulbrighters, past and present, are testament to the best traditions of academic and cultural exchange," he added.
Dr Sarah Ingle, Chair of the Board of the Fulbright Commission in Ireland said: "The new awardees are being provided with a great opportunity, but they also have a responsibility to continue Senator Fulbright's vision of creating mechanisms for mutual understanding, collaboration and sharing of ideas."
The UCD recipients of Irish Fulbright Awards 2019-2020 are:
Ms Kate Bermingham: Fulbright-Teagasc Student Awardee, University of California, Davis
Ms Kate Bermingham is a PhD candidate at UCD where she previously completed a BSc in Human Nutrition and a MSc through research in Nutrition and Metabolomics.
Her PhD studies focus on investigating longitudinal variation in dietary, anthropometric and metabolic phenotypes using a classic twin design.
As a Fulbright-Teagasc Awardee, Kate will visit the USDA ARS Western Human Nutrition Research Centre, Davis California where she will perform novel lipid profiling techniques to determine the impact of genetic and environmental factors on variation in human metabolomic profiles.
Mr Oisín Byrne: Fulbright Student Awardee, MIT
Mr Oisín Byrne is a PhD candidate at UCD, where he previously completed his B.Sc. and M.E. in Biomedical Engineering.
His PhD research focuses on 3D printing medical grade polymers onto cylindrically shaped substrates with applications in coronary artery bypass grafting.
As a Fulbright Student to Massachusetts Institute of Technology, he will conduct research into ways to promote the mechanical coupling of medical devices to tissue.
Dr Suja Somanadhan: Fulbright Scholar, University of Pittsburgh

Dr Suja Somanadhan is an Assistant Professor at the UCD School of Nursing, Midwifery and Health Systems. She is spearheading rare disease research partnership model called "RAinDROP" to shape the future of research studies.
As a Fulbright Scholar, she will examine the integrated care and services for the children, young people and their families living with Rare Diseases at the Center for Rare Disease Therapy at UPMC Children's Hospital of Pittsburgh.
She will use this analysis to compare and improve the provision of such services for those living with Rare Diseases in Ireland and US.
She will also explore the programme of work used to engage the Rare Disease patient community throughout the translational science process at the National Center for Advancing Translational Sciences at the National Institutes of Health.
Professor Kevin McDonnell: Fulbright-TechImpact Scholar, Ohio State University

Professor Kevin McDonnell has a joint appointment across Crops Science & Biosystems Engineering Department of UCD and his specialist interdisciplinary area of Agricultural Systems Technology addressing the sustainable use of bio-resources with a global perspective.
His Precision Agricultural research area is enabling the development of a digital agricultural platform, which will be a key technology for Irish agriculture in the development of profitable sustainable farming practices.
Professor McDonnell will work with the Ohio State University eFields team on digital data collection and analysis and use this work in conjunction with his own platforms to develop robust protocols for digital agricultural data collection, analysis and use in Ireland.
Ms Siobhan Grayson: Fulbright Student Awardee, Harvard University

Ms Siobhan Grayson is a PhD candidate at the Insight Centre for Data Analytics and the UCD School of Computer Science.
Her research focuses on aligning temporal networks extracted from online discussion forums in order to study quantitatively how participant behaviour changes over time.
As a Fulbright Student to Harvard University, Siobhan will undertake research at the Berkman Klein Center for Internet and Society where she will explore the dynamics of deliberation when instigated simultaneously across offline and pseudonymous online discourse spaces.
Dr John Greaney: Fulbright-NUI Scholar, University of Pennsylvania

Dr John Greaney lectures and tutors in UCD and Maynooth University.
His work has been featured in Irish Studies Review and Textual Practice, and he is co-editing Irish Modernisms: Gaps, Conjectures Possibilities.
As an NUI-Fulbright postdoctoral fellow at the University of Pennsylvania, he will undertake research for his monograph – The Distance of Irish Modernism – which investigates the paradox through which the Irish modernist novel becomes both a container for national history and a mode of world literature.
Ms Patricia Kenny: Fulbright Student Awardee, Smithsonian Institution, Washington DC

Ms Patricia Kenny is a second year PhD candidate in UCD.
Her current research, funded by the Irish Research Council, and the National University of Ireland Travelling Studentship prize, focuses upon the use of unusual stone in European prehistoric societies.
As a recipient of a Fulbright-Creative Ireland Museum Fellowship, she will research this topic on an international scale in the Department of Anthropology, Smithsonian Institution, Washington DC.
Mr Matthew O'Brien: Fulbright Student Awardee, University of Illinois, Chicago
Mr Matthew O'Brien is a PhD candidate based at the UCD School of History.
His doctoral research focuses on black power grassroots activism in Chicago from 1968-1983 through a lens of political education and is funded by the Irish Research Council.
As a Fulbright student to the University of Illinois at Chicago, Matthew will conduct primary research concerning community groups and organisations who embodied black empowerment and progression in the 1970s.
While at UIC, he will also orchestrate a series of oral history interviews that will further enrich the research topic.
Professor Margaret Kelleher: Fulbright Scholar, New York University
Professor Margaret Kelleher is Chair of Anglo-Irish Literature and Drama at UCD.
A professor at the UCD School of English, Drama and Film, she is the UCD academic lead for the Museum of Literature Ireland, a collaboration between UCD and the National Library of Ireland, and Chair of the Irish Film Institute.
As a Fulbright Scholar, she will research the promotion and branding of Irish culture in America 1889-1922, drawing from archives at the Berg Collection, New York Public Library, and resources at New York University.
Her research, and future monograph, will newly illuminate the activities undertaken by Irish artists who sought support and visibility from their American peers a century ago.
Ms Maeve Casserly, Fulbright-Creative Ireland Fellow, Harry Ransom Centre, Austin
Ms Maeve Casserly is a PhD candidate in the UCD School of History.
Her doctoral research is on public engagement with history through commemorations during the Irish Decade of Centenaries.
Her main focus is on engagement with women's history during 2016-2018.
Maeve's research is informed by her work as a heritage practitioner – she is the current Dublin City Council Historian-in-Residence and works in the National Library of Ireland.
As a Fulbright-Creative Ireland Fellow, and to mark the US centenary of women's suffrage in 2020 she will research and lead public engagement with the rich collections of the Harry Ransom Centre, Austin.
Ms Deirdre Murphy: Fulbright FLTA, Gonzaga University, Washington State

Ms Deirdre Murphy is a Primary school teacher in Temple Street Children's Hospital School, Dublin.
She has a BA International Degree in Irish and Geography from UCD and a Postgraduate Degree in Primary Education from Froebel College of Education.
In her spare time, Deirdre enjoys drama, singing and participating in local choirs and musical societies.
As a Fulbright Irish FLTA she will take classes and teach Irish at Gonzaga University, Washington State.
Mr Conor Quinn: Fulbright-TechImpact Cybersecurity Awardee, Boston College
Mr Conor Quinn is a Senior Cyber Security Consultant, specialising in Digital Forensic and Cybersecurity management with Deloitte Ireland.
His work centres around investigating cybersecurity incidents to determine how they happened and to recommend improvements to increase security of organisations.
As the first Fulbright-TechImpact Cybersecurity Awardee to Boston College, he will partake in the Cybersecurity Policy and Governance Masters programme and examine new methods to implement cyber security strategies.
Ms Caroline Ní Ghallchobhair: Fulbright FLTA, University of Notre Dame

Ms Caroline Ní Ghallchobhair is from the Erris Gaeltacht in County Mayo. She has a BA in Irish and English from St Patrick's College, DCU and spent a year studying communications and media in the University of Jyväskylä, Finland.
She also holds a M.A. in Scríobh agus Cumarsáid na Gaeilge from UCD.
Caroline has worked with Gaelchultúr as a teacher and administrative executive.
As a Fulbright FLTA she will teach the Irish language and take classes at the University of Notre Dame.
Ms Sinéad Murray: Fulbright FLTA, University of Connecticut
Ms Sinéad Murray completed a Bachelor of Education International in Dublin City University in 2014. During that time, she spent a year on the Erasmus programme in Charles University Prague, where she taught Irish classes to international students and sang with a traditional Irish band called 'Conamara Chaos'.
Currently, she is completing a masters in Scríobh agus Cumarsáid na Gaeilge in University College Dublin.
Sinéad teaches in Finglas and is passionate about imparting a love for the Irish language amongst young children.
As a Fulbright Irish FLTA she will take classes and teach Irish at the University of Connecticut.
Dr Brendan Kelly: Fulbright Scholar, Stanford University

Dr Brendan Kelly is a Radiology Specialist Registrar at St Vincent's University Hospital and an ICAT Fellow at UCD.
A UCD graduate of Radiography and Medicine, Dr Kelly received his membership of the Royal College of Surgeons in 2016, and MSc in Radiology from NUIG in 2017.
He will visit the Stanford Department of Radiology and the Stanford Centre for Artificial Intelligence in Medicine and Imaging to investigate potential novel applications of AI to radiology, with the goal of establishing collaborations to achieve cutting edge clinical developments both in Ireland and the US.
By: David Kearns, Digital Journalist / Media Officer, UCD University Relations