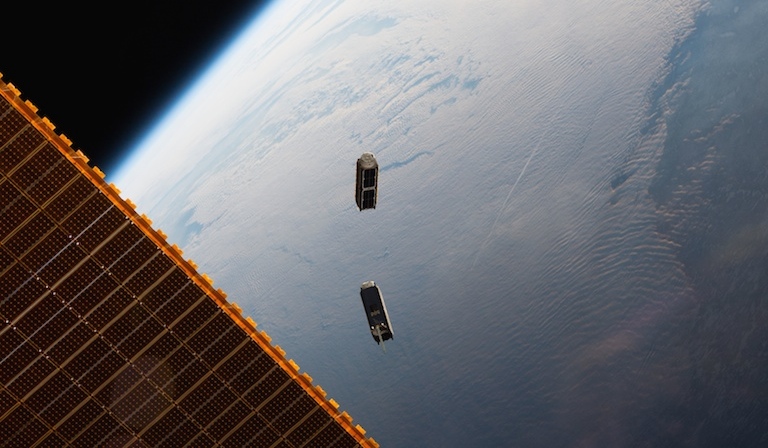 Satellite will detect most powerful explosions in the universe
University College Dublin will lead the development of Ireland's first space satellite after the European Space Agency gave the green light to its EIRSAT-1 project.
The Education Irish Research Satellite (EIRSAT-1) will be launched from the International Space Station in 2019 once final approval is received from the ESA.
It will be managed and controlled from a command centre in the UCD School of Physics. Known as a CubeSat because of its size – around that of a shoebox – it will orbit the Earth for approximately 12 months.
A major part of its mission will be to gather data on the most powerful explosions in the universe – gamma-ray bursts.
"Despite its small size, EIRSAT-1 will detect the biggest explosions since the Big Bang and pave the way for future space science missions," said Professor Lorraine Hanlon, UCD School of Physics.
"Our students will have an amazing opportunity to learn, not only from the wealth of expertise at ESA, but also from the other excellent teams participating in the programme from across Europe. This hard work will prepare them very well for future careers in the space sector."
Five Irish companies will work with University College Dublin and Queen's University Belfast on the project. The companies include Resonate, ENBIO, SensL, Parameter Space and MOOG Dublin.
Parameter Space is a UCD spin-out and ENBIO was previously based at NovaUCD, the university's Centre for New Ventures and Entrepreneurs.
The collaboration of student teams, researchers and high-tech companies is part of the ESA's Fly Your Satellite programme. It will provide training and education to graduates and undergraduate students in all major aspects of satellite development, under guidance from academic and industry mentors and the ESA.